Education and Research in Germany
The system for education and research in the Federal Republic of Germany is complex and distributed among actors of the so-called Bund (Federation) and the Federal States.
Most of the specific information concerning education and research in Germany is provided by several institutions responsible for their respective and specific areas. Kooperation international gives an overview by featuring a commented list of links to relevant institutions and information resources.
Education
1.2 International Academic Programmes and Courses
1.3 Vocational Training
German Office for International Cooperation in Vocational Education and Training (GOVET)
GOVET is an essential component of the strategy of the Federal Government to move towards greater cohesion in international vocational education and training cooperation by delivering services from a single source. GOVET provides specialist support to the Federal Government and acts as the main cooperation partner in vocational education training for national and international stakeholders.
https://www.bibb.de/govet.international/en/index.php

iMOVE Training - Made in Germany
iMOVE's objective is to promote international collaboration and the initiation of cooperation and business relationships in vocational training and continuing education. iMOVE is an initiative of the German Federal Ministry of Education and Research (BMBF). iMOVE is part of the international division at the Federal Institute for Vocational Education and Training (BIBB) in Bonn.
https://www.imove-germany.de/en


Bundesinstitut für Berufsbildung

(BIBB)

The Federal Institute for Vocational Education and Training (BIBB) is recognised as a centre of excellence for vocational research and for the progressive development of vocational education and training (VET) in Germany. BIBB works to identify future challenges in VET, stimulate innovation in national and international vocational systems, and develop new, practice-oriented solutions for both initial and continuing vocational education and training.
https://www.bibb.de/en/
Pädagogischer Austauschdienst

(PAD)
The

Pädagogischer Austauschdienst

is the sole public organisation in Germany working on behalf of the Federal States to promote international exchange and cooperation in the school sector. The PAD is a department of the Secretariat of the Standing Conference of the Ministers of Education and Cultural Affairs of the Länder in the Federal Republic of Germany (

Kultusministerkonferenz

):
https://www.kmk-pad.org/pad/english.html
Research
Research in Germany - Land of Ideas
The "Research in Germany" portal is an information platform and contact point for all looking to find out more about Germany's research landscape and its latest research achievements. One key goal of the portal is to provide an overview of the research and funding opportunities in Germany.
https://www.research-in-germany.org/en/
Reports
Reports on International Research Cooperation in Education, Science and Research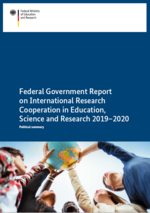 Since the Internationalisation Strategy was launched in 2017, the Reports of the Federal Government on International Cooperation
in Education, Science and Research regularly outline the progress made in achieving the goals contained in the strategy and in implementing the European Research Area (ERA) Strategy.
2019-2020 report - Political summary
Reports on Research, Innovation and Technological Performance in Germany
National Reports on Education
The national reports on education present a major empirical review which covers the entire German education system. Published every two years, each report provides indicator-based information about the general conditions, features, results and output of education processes. The reports are jointly commissioned by the Standing Conference of the Ministers of Education and Cultural Affairs (KMK) and the Federal Ministry of Education and Research (BMBF). The reports 2018 and 2020 are available in German language only (as of January 2021).
2016 report summary
2014 report summary
Web resources
Research in Germany